Two To View – A Couple Of Amazing Videos You Don't Want To Miss

Record-Breaking Teddy Bear Toss
Hockey fans show team spirit by tossing nearly 35,000 stuffed animals (later donated to local charities) onto the ice.
Tiny Cars Are Big In China
Half scooter and half car, these low-speed electric vehicles are a third the size of a standard vehicle and super cheap.

How To Care For Your Devices In The Cold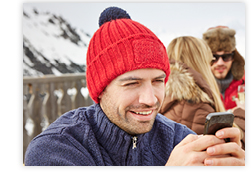 Mobile devices, such as smartphones and tablets, don't like cold weather. When a lithium-ion battery is exposed to cold temperatures, it can drain faster than normal or indicate it has ample power remaining and then suddenly go dead. Low temperatures can also make a device's glass surfaces more sensitive to cracks and breaks, especially if there's already a nick.
Here's what to do:
To keep your device from getting too cold, don't leave it alone for long in frigid places such as a parked car. It's best to stash it inside pockets closest to your person, where it can absorb some of your body heat.


In the event your device does shut down, do not restart it until you're inside and have given it time to warm up. Restarting immediately could actually cause more harm and shorten your battery life.


Cases also help to keep devices warm. You may want to consider the cases designed to regulate a phone's temperature in extreme weather.
To get specifics for your device, consult the manufacturer's website.

FREE Featured Apps – These Three Are Well Worth A Look



Fabulous
Create healthy new habits with this motivational app. It can help you learn to drink more water, do yoga, and much more.

Learn more...


Walli
Looking for a new wallpaper for your phone? Download this app to get artistic, whimsical, funny, or inspirational options.

Learn more...


Be My Eyes
Download this app to help blind and low-vision people accomplish tasks like reading instructions or navigating surroundings.

Learn more...

Stay Alert – What You Need To Know About The Marriott Data Breach


Go Pinterest-ing! – Cool Stuff To Pin On Your Pinterest Boards


Sites of the Month – Great Sites To Check Out In January

Give Blood Today
redcross.org – The American Red Cross provides numerous resources for donating blood. Visit this site to make sure you're eligible to donate, review the donation process, and complete your pre-reading and donation questions online. You can also learn what happens to donated blood and find out how to become a Red Cross volunteer.
Winter Car Readiness
almanac.com – Winter storms can be brutal, and you don't want to be caught driving in one without the proper equipment. Use this Old Farmer's Almanac list to ensure you have everything you might need. Items include a flashlight and extra batteries, tire chains, and a sleeping bag — just in case!
Best Soup Recipes
tasteofhome.com – There's nothing quite like a steaming bowl of soup to warm you up on a winter day. Visit this site to find some great recipes like Hearty Vegetable, Split Pea, Potato, and, of course, classic Chicken Noodle. Pair with bread and a salad for a delicious and comforting meal.
Global Radio Broadcasts
radio.garden – This fascinating site allows you to listen to global radio broadcasts. Click Live to hear a random station currently playing, or choose one on the globe. Try History to listen to clips from past broadcasts. Jingles plays station identification numbers. Use it to connect with other people, countries, and cultures.

Short Tutorial/FAQ – Can My Facebook Cover Be A Video Instead Of A Photo? If So, How Is It Done?

We hope you found this newsletter to be informative. It's our way of keeping you posted on the happenings here. If, however, you'd prefer not to receive these bulletins, please see the links at the bottom of this email to manage your preferences.
Thanks for your business!
Best regards,
Egyptian Internet Services
Your local connection to the world
Egyptian Internet Services
1010 W Broadway
Steeleville, IL 62288
888-774-1638
©2019 Cornerstone Publishing Group Inc.
Trademarks: All brand names and product names used in this eNewsletter are trade names, service marks, trademarks or registered trademarks of their respective owners.